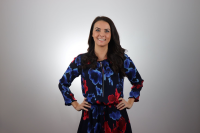 Megan Brewster
I am a self-motivated and detail-oriented marketing professional with a passion for making an impact through public relations and storytelling.
I have honed my skills at top agencies in Florida and New York City and pride myself on my ability to adapt to client voice, communicate clearly, think creatively and strategically, overdeliver on results and maintain a sense of humor under pressure.
Please take a look at some of my samples. No fancy layouts or designs, just my words.
Expertise High-impact scripts, PSAs, presentations, social and traditional ads, presentations, websites, speeches and PR materials
Skills Copywriting / Content Development, Research and Data Analysis, Crisis Communications, Proofreading and Editing, PR Strategy, Media Training
Location Tampa, Florida